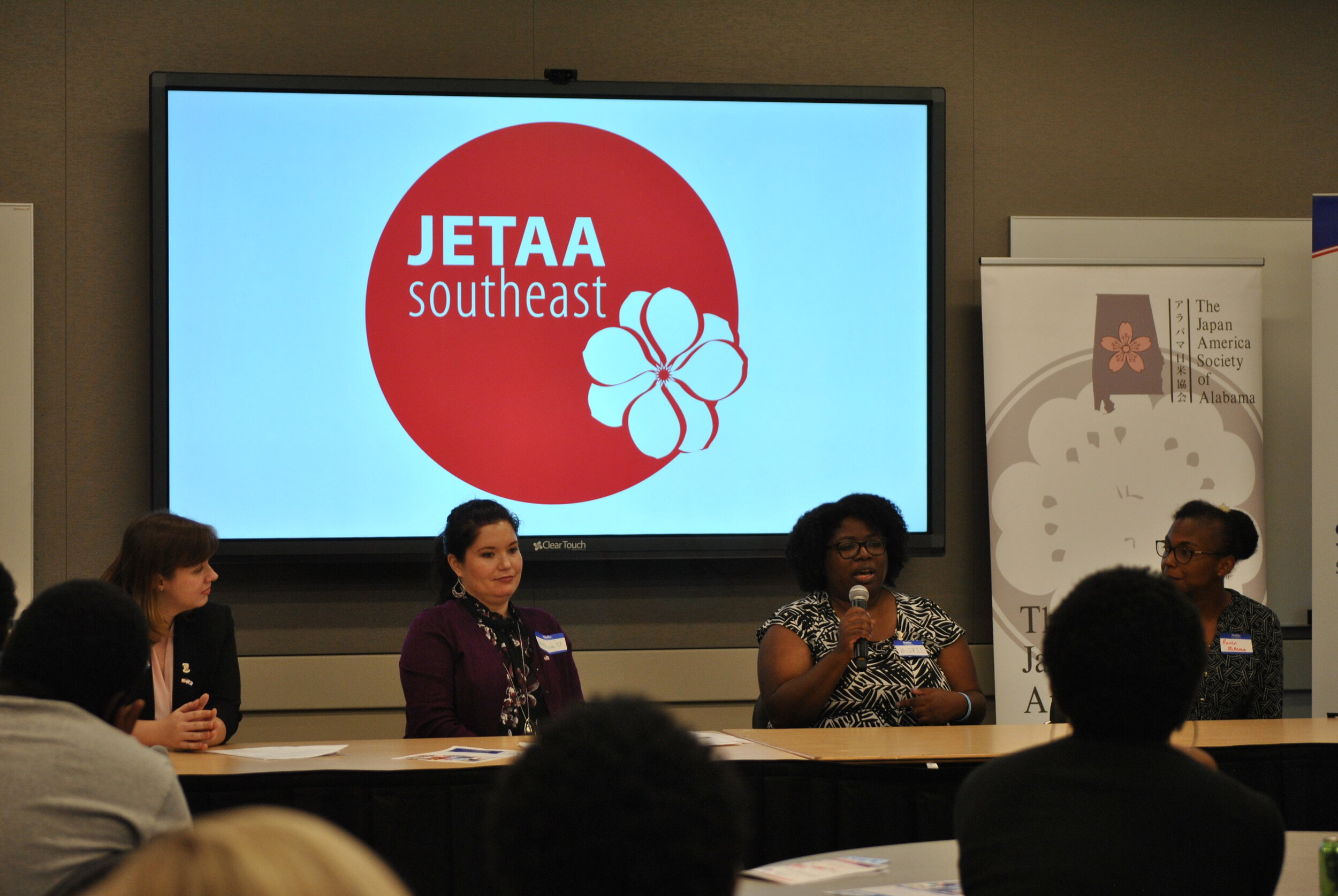 Summary of Event: Opportunities to Strengthen Japan-Alabama Ties
By Ingrid Galinat
When one thinks of Alabama, the images of sweet tea, BBQ, and college football often come up. Japan-U.S. relations in Alabama are not as well known, though Alabama has well established Japanese sister cities and Japanese companies. It is with that connection in mind that the Opportunities to Strengthen Japan-Alabama Ties took place at the University of Alabama on September 15, 2019. This program let students know about the roles they can take at Japanese companies in the region and abroad in Japan. The event was held in Tuscaloosa, AL and drew 42 participants, the majority of which were university students from six different universities from Alabama and Mississippi.
With the assistance of grant funding from the Sasakawa Peace Foundation USA and the U.S. Japan Exchange & Teaching Program Alumni Association (USJETAA), this event brought together representatives from the Alabama business community, Japanese organizations, and university departments to increase students' understanding of U.S.-Japan relations in Alabama and possible future opportunities for jobs related to Japan in the region.
The event began with opening remarks by Joy Champaloux of Sasakawa USA, Raven Mckenzie of University of Alabama and the Japan Exchange & Teaching Program Alumni Association of Southeast (JETAASE) Alabama sub-chapter, and Jolie Thevenot, Executive Director, Japan-America Society of Alabama (JASA). The keynote address by Honorary Consul of Japan, Mark Jackson covered the U.S.-Japan ties and contributions in the state of Alabama. Mr. Jackson elaborated on the Japanese-Alabama ties decades before World War II and the strong business connections Japanese companies have in Alabama.
The first panel discussion was on perspectives about working with Japanese companies in the United States. On the panel was Trevin Dye, Assistant Director of International Business Development at Japan External trade organization (JETRO) Atlanta, Charlene Butler, Associate Relations team with Honda Manufacturing of Alabama, and Mark Jackson, Honorary Consul of Japan and CEO of Moreson Conferencing. The panel discussed in detail of the importance of working with Japanese companies in Alabama and Georgia and concreate steps to apply for positions in Japanese companies.
The final panel discussion was on opportunities to gain international experience in Japan. On the panel, Raven McKenzie, Co-founder of the JETAASE Alabama sub-chapter, Melissa Takeuchi, Special Assistant at the Consulate General of Japan in Atlanta, Valerie Stewart, Treasurer, JETAASE and Vendor and Marketing coordinator at John Paul and Jolie Thevenot, Executive Director, Japan-American Society of Alabama. The panel discussed the impact of studying and working in Japan and how that experience influenced them in their current careers.
Both panels led interactive sessions on how to work for a Japanese company in Alabama and in the USA and how to study abroad and work in Japan after university. The program concluded with a short Japanese business Etiquette demonstration by Yoko Minami, Japanese Outreach and Initiative coordinator at the University of West Alabama followed by a light meal and networking.
The event was organized by co-leaders Ingrid Galinat and Raven McKenzie of the JETAASE Alabama Sub-chapter, along with Jolie Thevenot, the Executive Director of JASA. The Sasakawa Peace Foundation USA and the U.S. Japan Exchange & Teaching Program Alumni Association (USJETAA) funded this program.